Single Hung Window System
SS4500 Single Hung Window System – Custom Solutions for Your Home
Quality Residential Windows in Vancouver
RetroTeck Window Mfg. Ltd. single hung windows are a popular choice throughout the Lower Mainland. They glide open vertically with ease due to their heavy-duty block and tackle balances. These windows come in a wide range of sizes and can be combined in a variety of shapes to create a sophisticated, custom look for your home.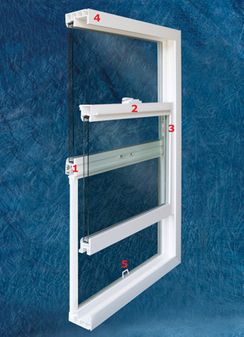 Strength, Durability & Energy Savings
With a 100% fusion-welded vinyl frame and sash corners, our single hung windows provide strength and durability with water and air leakage eliminated at critical corner locations. RetroTeck windows offer high performance and outstanding benefits for homeowners. The natural insulation of 100% vinyl provides immediate savings in reduced energy bills. The same energy-efficient features that guard against temperature extremes also provide an effective barrier against outside noise. Muntin bars are available in a wide range of grids.
If you are looking for high quality, single hung windows, RetroTeck offers residential windows Vancouver residents can trust! Specializing in whole home replacements and renovations, we have a solution for you.
Cross Section for SS4500 Single Hung Windows
Reinforced mullion with interlocking double fin-seal weatherstripping ensures a firm seal against drafts to help reduce heating costs, reduce noise and provide added security.
Sliding window lock with keeper
Exclusive tilt night lock system
Multi-chamber frames with double weatherstripping around sliding sash. RetroTeck frames resist twisting and will not warp. Sealed air chambers insulate against hot and cold weather extremes, providing controlled comfort.
Easy removable screen from inside or outside.
Dual weather seal
One-piece brickmould flange (for renovation).
Hollow multi-chamber design for maximum strength and reducing heat loss.

RetroTeck Quality Features- S4500 Series
Heavy vinyl walls for strength – windows are .080" thick
3-1/4" multiple hollow chambers minimize heat loss
Welded corners provide weather-tight seal
Pre-punched nail fin location for ease of installation and more support (new construction)
Low point / high pressure weep system removes water quickly
Dual fin-seal, continuous weatherstripping for airtight construction
One-piece brickmould flange (renovation)
Non-corrosive hardware for long life
3/4" overall glass thickness for optimum insulating value
Custom grids available in a variety of colours and sizes
Custom colours available upon request
ENERGY STAR with LoE2 glass and argon gas filled
Tilt night lock
RetroTeck Flange Styles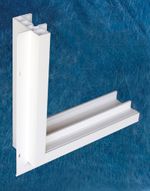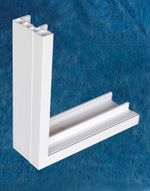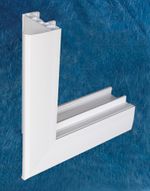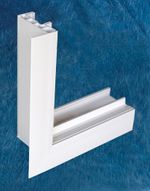 RetroTeck Muntin Bar Combinations

















RetroTeck Flange Colours