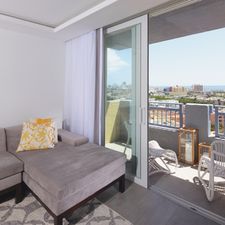 When you're looking for replacement doors for your patio the choices can seem a little overwhelming.
The first thing you need to consider is the amount of space you have available. Can the room accommodate hinged doors that swing open?
If not,
sliding doors
are an excellent alternative. They are low-profile and don't take up a lot of floor space in a room. Many people think of sliding doors as strictly functional, but they can also add to the décor of a room.
There are three main options when it comes to sliding patio doors, but the decorative muntins and the variety of flange colours offer variance to create a style all your own.
Sliding French doors
Sliding French doors bring the stylish sophistication of hinged French doors to a room but offer the convenience and space-saving design of sliding doors. They are available with different glass styles depending on the level of privacy you would like to have, such as clear or bevelled.
Wide sliding doors
You can create a seamless transition between the indoors and the deck awaiting you outside with extra wide sliding patio doors. Depending on the size of your room, these sliding doors can take up nearly the entire width of a wall to give you a beautifully unobstructed view of your backyard.
Standard sliding patio doors
These typically have two large glass window panels. One is stationary while the other slides horizontally on its tracks to let foot traffic through. They don't take up a whole lot of room and you can personalize the design with decorative muntins.
Are you in the midst of a home renovation?
If you're currently renovating a room in your home and you need to find sliding door contractors, RetroTeck Window Mfg Ltd manufactures and installs patio doors that are built to last. Quality design and installation are simply a part of our mandate. Our energy-efficient doors offer:
100% fusion-welded vinyl frame and sash corners to prevent air and water leaks.
Energy-efficient 100% vinyl means immediate savings on energy bills.
Anti-lift block for maximum security.
Biggest brass rollers in the business for smooth operation.
ENERGY STAR rated with Low-E 2 glass.
Non-corrosive hardware for long life.
Continuous weather-stripping for airtight construction.
To learn more about our sliding patio door options and benefits, visit our website or come see us at a showroom in near you. With locations in Victoria, Vancouver, and Burnaby we are able to service residents across the lower-mainland. Contact us today!