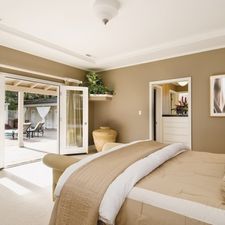 Are you considering replacement doors in your home?
Not sure what type to install? Whether you're considering interior or exterior doors, the benefits of French doors are abundant.
They add elegance and functionality to any room, creating a generous opening for natural light, air and foot traffic to flow through. Often used as an entryway to backyards, French doors make a beautiful framework for gardens, patios or decks.
Advantages of French patio doors
There are many reasons that French doors should make it to the top of your home improvement list. The least of which is that you can make a dramatic change to your décor without going through a lot of home renovations.
Versatility. French doors are available in a number of styles. Traditionally hinged, you can now purchase them in a sliding variety which combines the look of French doors with the space-saving design of sliding doors. The glass is available in everything from stained to bevelled and can even include built-in retractable shades for privacy.
Custom-made sizes. With a company like RetroTeck, you can order them in any size you desire. Our patio doors are fully customizable with multiple panel configurations and a wide selection of hardware and grid options.
Openness. Because French doors utilize so much glass they transition seamlessly between the outdoors and indoors. One of the nice features about glass is that it can filter a lot of light into your home but still offer privacy depending on the type of glass you choose.
Functionality. French doors are available in many different types of material. Wood is ideal inside when their primary function is to enhance the home décor or to add a separation between rooms. For patio doors, though, durability, energy efficiency and less maintenance is preferred so metal, aluminum clad or fiberglass are the materials of choice.
Value. French patio doors are a feature that many home buyers seek, so you can rest assured you are making a sound investment that adds real value to your home.
French door installation in Greater Vancouver
RetroTeck Window Mfg. Ltd. can custom make beautiful, functional French doors for your patio that will add sophistication and charm to your home for years to come. You can also rely on us to provide French door contractors for superior installation and customer service.
To learn more about our sliding patio door options and benefits, visit our website or come see us at a showroom in near you. With locations in Victoria, Vancouver, and Burnaby we are able to service residents across the lower-mainland. Contact us today!